Car Paint Scratch Repairs & Mobile Bumper Repairs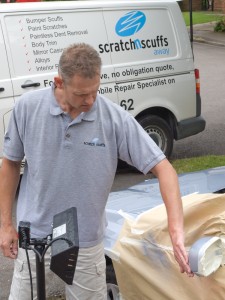 Covering MILTON KEYNES, WELLINGBOROUGH, BEDFORD, KETTERING, NORTHAMPTON and surrounding areas for the past fourteen years.
Scratch n Scuffs away specialise in MOBILE CAR BODY REPAIRS / SMART REPAIRS. This means I am able to repair just the damaged area—no need to repair entire panels. As a result, you can save up to 50% on a traditional bodyshop cost, often paying less than your insurance excess.
Scratch n Scuffs away is a local mobile business with a fully-equipped workshop van. I can repair your car at home or work at your convenience. Repairs replicate the original factory finish, and most car body/bumper/paint repairs are fully completed in 2-3 hours. All repairs are fully guaranteed visit our Quotation Page to get your no-obligation quote.
Bumpers, mirror casings, plastic trim…
Scuffs and scratches on car bumpers, mirror casings, etc. can be easily repaired. Using advanced paints, accurately matched, texture (where necessary) and specialist techniques we are able to repair small to medium paint damage. Replacement plastic trim and wing mirror casings can also be supplied and fitted where applicable.
(use your mouse or pointer to move the arrows to view the before and after)
Car Paint Repairs…
Damaged paintwork can be repaired on most areas of your car. Only the scratched area itself is repaired. The car paint repairs technique consists of: The damaged area is sanded, filled if needed, and then re-coloured, lacquered and blended into the panel.
Alloy Wheels…
Kerb damage and corrosion can be easily repaired. The damaged area is sanded, filled and then re-coloured, lacquered and blended in to the rest of the wheel.
Plastic Welding…
Splits and cracks in plastic bumpers or trim can be plastic welded back together, then repainted — our mobile bumper repairs saves you the cost of a new bumper.
For a free repair quote, call us on 0773 062 3771

Scratch and Scuffsaway's mobile car body repair service is subject to our Terms & Conditions.